[UR22 Event Recap] Innovative Financial Solutions in Southeast Asia: Addressing the Financial Impacts from Climate Shocks and Disasters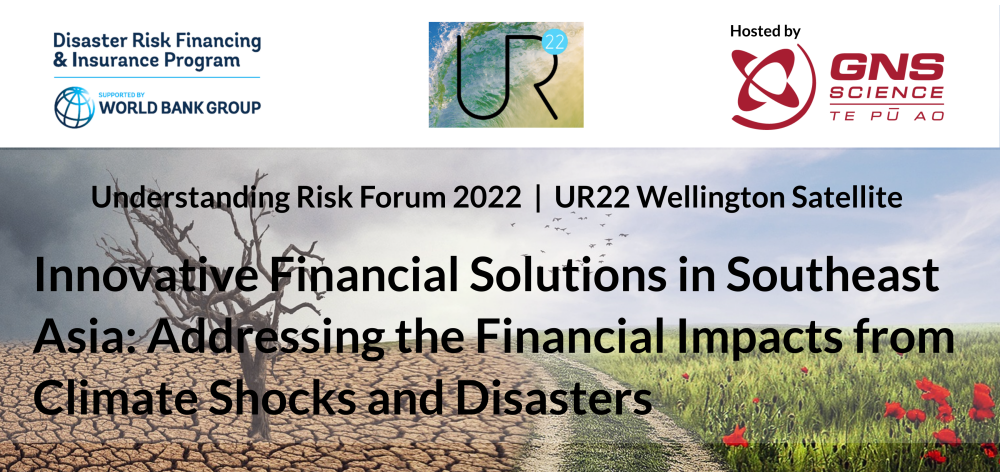 The "Innovative Financial Solutions in Southeast Asia: Addressing the Financial Impacts from Climate Shocks and Disasters" event was held on November 29, 2022. The virtual session was part of the Understanding Risk Global Forum (UR22) satellite hub in Wellington, New Zealand hosted by the Institute of Geological and Nuclear Sciences (GNS Science) in association with the World Bank (WB). 
The session discussed innovations in disaster risk finance (DRF) in Southeast Asia, hosted an audience of over 50, in person as well as virtually, and featured three speakers: Shannen Nicole Chua (Treasury Operations Officer IV, Bureau of the Treasury, Philippines), Greg Fowler (Senior Risk Finance Expert, World Bank Group), and Hauw Soo Hoon (Chair of SEADRIF Insurance Company). The event was moderated by Sumati Rajput (Financial Sector Specialist, Crisis and Disaster Risk Finance, World Bank Group), who kick-started the session with a basic introduction to DRF.
Shannen Nicole Chua explained the workings of the Philippine Catastrophe Bond, an insurance-linked security, issued through the WB in 2019, that helps transfer the country's typhoon and earthquake risk to the capital market. She said, "In the Philippines, we experience at least 30 earthquakes every year and 20 tropical cyclones. Around PhP 177 billion worth of damage (per the ArcGIS model) is sustained every year due to typhoons. The Philippine CAT Bond was put in place as an additional layer of financial protection for the government to cover losses arising from more severe disaster events." It offers immediate liquidity, and coverage against typhoons (USD 125 million) and earthquakes (USD 75 million) for a period of 3 years. Shannen's presentation also touched upon the importance of data in building DRF instruments. "It helps us Know what our potential risks are, Inform our decisions, and Understand trends, opportunities, and challenges in the market," she concluded.
Greg Fowler elaborated on the fast-growing Asuransi Barang Milik Negara (ABMN) indemnity insurance program, established in 2019, that protects public assets in Indonesia. "The ABMN program has six key priorities, among which are the protection of state and subnational assets, and the development of the domestic insurance market. The goal is to prioritize assets for protection, such as those of high economic value and the ones that deliver important public services. In Indonesia, having a mandate for insurance was a big step in opening up the suite of solutions for financing the impact of climate disasters," he emphasized. DJKN (a directorate of the MoF responsible for the management of state assets) was assigned responsibility for managing and administering the program. In 2021/22, it was successful in onboarding 74 of 81 eligible line ministries. "There is now a drive towards asset type expansion, improvements in data management tools, and eventual integration with a planned national Disaster Pooling Fund (PFB)," he said.
Soo Hoon, in her presentation, provided insights into the Southeast Asia Disaster Risk Insurance Facility (SEADRIF) initiative and elaborated on the first-ever parametric sovereign flood product offered to Laos PDR. "Lao PDR is frequently faced with disasters such as flooding (mainly from the Mekong River), droughts, landslides, and earthquakes. Accordingly, we issued a flood risk cover policy in 2021, which has two components — the parametric and the finite. The parametric section is pre-arranged, and triggered based on pre-agreed triggers," she explained. This product is modeled and maintained through the flood risk monitoring tool. The World Bank, as technical partner to SEADRIF, supported the development of the product, which serves to provide Laos protection coverage for up to US$30 million, she explained.
The presentation was followed by an engaging Q&A session on the importance of data and information in DRF instruments, as well as the expansion of existing schemes to cover residential and private assets.
Key messages
Risk layering and data analysis are important in designing disaster risk financing instruments
Countries define their risk finance strategies to better understand what they would like to protect.
Different instruments are useful for protecting government budgets, assets and services, and people.
Different instruments are useful for responding to different types of events – events that impose high costs vis-à-vis lower costs.
Regional solutions can be a way for countries to further diversify their risk portfolios.
For updates, news, articles on Disaster Risk Finance, please join our LinkedIn Group and Community of Practice.