[Event Recap] WBG-SECO Knowledge Exchange Series: Fiscal and Financial Resilience for Subnational Governments - Webinar #2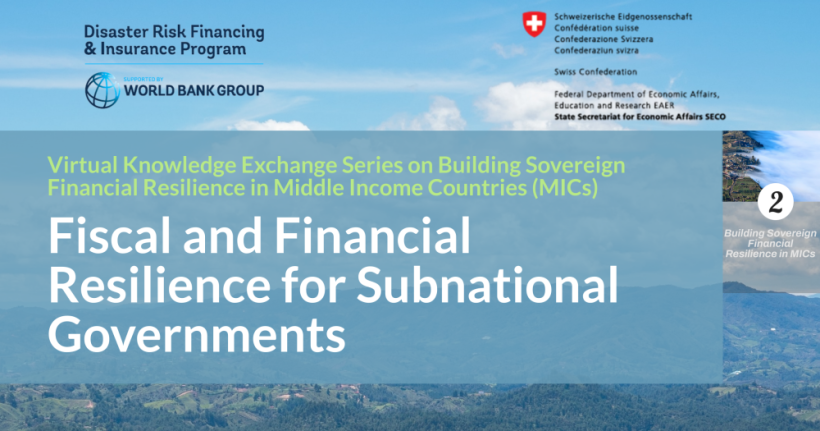 On June 15, 2021, the World Bank Group's (WBG) Disaster Risk Financing and Insurance Program (DRFIP) and the Switzerland's State Secretariat for Economic Affairs (SECO) jointly hosted the second session of the Knowledge Exchange Series: Building Sovereign Financial Resilience in Middle Income Countries. The session focused on Fiscal and Financial Resilience for Subnational Governments. The series is a continuation, in virtual formats, of traditional knowledge exchange events that take place every two years to empower countries under the program through sharing their experience and knowledge in building financial resilience.
The Webinar commenced with opening remarks from Olivier Mahul (Practice Manager, Crisis and Disaster Risk Finance [CDRF], WBG). Hang Thu Vu (Senior Financial Sector Specialist, CDRF, WBG) presented the framing presentation which discussed the fiscal/financial impacts of disasters on subnational governments and importance of post-disaster funding arrangements and clearly defined cost-sharing mechanisms between central -subnational governments. The framing presentation was followed by country presentations by government representatives – Nico Padovan (PSM, Deputy CEO of the National Recovery and Resilience Agency, Canberra, Australia), Alethia Arango (Director of Administrative Department of Disaster Risk Management (DAGRD), Medellín, Colombia) and Juan Moreno (Project Leader of the Knowledge and Risk Reduction, DAGRD, Medellín, Colombia), Nguyen Van Phung (Director General, Department of Finance. City of Da Nang, Vietnam). The country representatives showcased the financial protection strategies at subnational government level. The country presentations were followed by an engaging Q&A session. 
The webinar was facilitated by Kaavya Krishna (Senior Financial Sector Specialist, CDRF, WBG) and featured a live poll function to better understand and interact with the audience. Over 150 participants from client countries, international organizations, private sector companies, non-governmental organizations, and academia attended the virtual session. 
This Knowledge Exchange Series comprising 8 virtual sessions with complementary Fact Sheets offers certificates. Each session is promoted with a captivating teaser video and enables simultaneous interpretation services (English, Spanish, French and Albanian).
·         To watch a teaser video for the Knowledge Exchange Series, click here.
·         To review the Fact Sheet#2 and presentation slides, click here and here.
·         To recap the session, watch the recording here (English, Albanian, French, Spanish, Vietnamese) 
·         To access the post-event resource webpage, click here.