[Event Recap] Disaster Risk Finance for Agriculture Knowledge Series - Webinar #4: Structuring a Financial Protection Scheme for Agriculture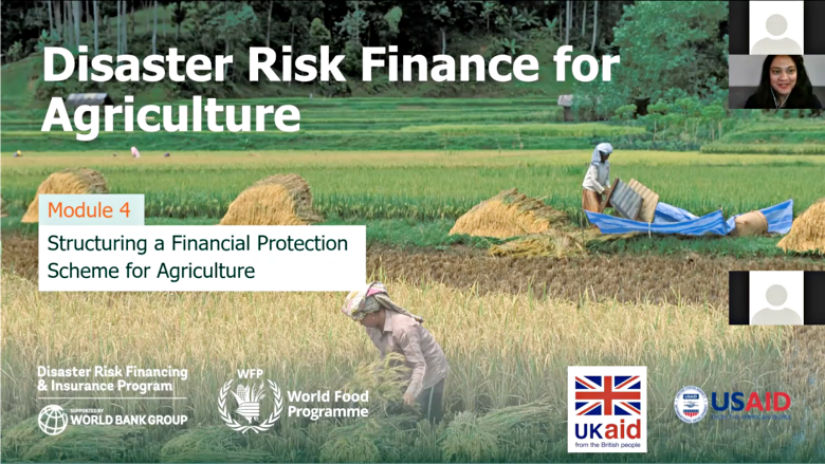 The fourth webinar in the Strengthening Financial Resilience in Agriculture Knowledge Series took place virtually on July 15, 2021. The session set out a framework on how governments can structure and implement a program to build financial resilience to disasters within the agriculture sector. Lisa Yu (Risk Finance Consultant, Finance, Competitiveness, and Innovation, World Bank Group [WBG]) presented the key takeaways from the previous session and moderated the Question & Answer session. Evie Calcutt (Financial Sector Specialist, Finance, Competitiveness, and Innovation, WBG) presented the decision-making framework and how to utilize the framework in designing a financial protection scheme, focusing on agriculture risks as well as the implementation process. Mathieu Dubreuil (Senior Insurance Advisor, Risk Transfer Team, Climate & DRR Programmes Unit, World Food Programme) then explained the key points to focus on when designing the operational plan and importance of having a contingency plan in place to make sure funds reach beneficiaries when required, in a timely manner. 
The webinar was facilitated by Kaavya Krishna (Senior Financial Sector Specialist, Finance, Competitiveness, and Innovation, WBG), featuring live poll questions to understand the participants better and interact with the audience. The webinar has a Q&A session, which discussed various questions posed by the attendees during the registration and the live session. The virtual session brought together over 120 participants from client countries, international organizations, private sector companies, non-governmental organizations, and academia. Click here and here to access the session recording and slides.  
The DRF for Agriculture Knowledge Series features interactive webinars and associated fact sheets from February to November 2021. Invited speakers are industry experts, government clients, and seasoned practitioners from the World Bank Group and international development agencies. This series offers a World Bank Group certificate of achievement. Click here to access the post-event resource page.